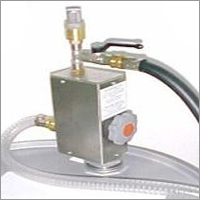 Mixing Unit FM 800
Price And Quantity
Set/Sets

50000.00 - 500000.00 INR
Product Description
We are one the leading supplier and manufacturer a myriad spectrum of Mixing Unit FM 800. These units are the result of the consequent application of the current knowledge in the field of diffuser research in combination with praxis relevant usage. The mixing unit consists of an elegant and stable stainless steel casing for contains the jet pump with the nozzle and direct mounting on to the concentrate barrel. The integrated flow regulator ensures a constant flow rate at a given water pressure of 2 - 10 bar. A precision mixing unit FM 800 with zero-end for an infinitely variable mixture of 0 - 20 % is located on the side of the casing.

Details


Range of capacity: To 1500 l/h with a water pressure of 2 to 10 bar
The FM 800 also contains a large dimensioned aspiration garniture, outlet tube as well as a shut off valve
Water connection: ½" BSP
Mixing Unit FM 800
These units are the result of the consequent application of the latest knowledge in the field of diffuser research in combination with praxis relevant usage.

The technique makes use of the principle of jet pumps. The mixing unit FM 800 is used for the production of stable and homogeneous emulsions in a wide concentrate range.

All soluble coolants and concentrates can be mixed. The unit is especially designed for the filling of coolant tanks in single machine tools whereby the concentrate barrel together with the mixing unit can be placed on a mobile support and be transported directly to the machine tools.

The mixing unit consist of a stable and elegant stainless steel casing for the direct mounting on to the concentrate arrel and contains the jet pump with the nozzle. The integrated flow regulator ensures a constant flow rate at a given water pressure of 2 - 10 bar. A precision adjustment hand wheel with zero-end for an infinitely variable mixture of 0 - 20 % is located on the side of the casing. Mixing chamber

The FM 800 also contains a large dimensioned aspiration garniture, outlet tube as well as a shut off valve.

The system works with the water pressure of the main water line only and does not need an electrical connection.

Range of capacity: To 1500 l/h with a water pressure of 2 to 10 bar.

Water connection: ½" BSP.