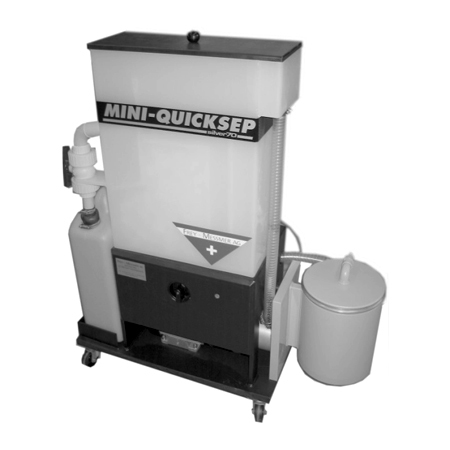 Quick Sep Oil Separator
Price And Quantity
Set/Sets

50000.00 - 500000.00 INR
Product Description
Quick Sep Oil Separator

The consequent application of different physical laws in the compact coolant cleaner type MINI-QUICKSEP as well as the optimal combination of the suction float and the pump is responsible for the very efficient cleaning capacity of these units. The unwanted and free oils are efficiently separated from all contaminated fluids such as metal cutting emulsions, wash baths, hardening baths etc. At the same time the emulsion is being aerated. The clean medium from which the unwanted oils have been separated flows back to the treatment tank by gravity.
The separation performance lies at over 98% when demulsifying fluids are used. Except for the pump and the motor there are no moving parts within the coolant cleaner MINI-QUICKSEP. Due to this fact maintenance costs are reduced to a minimum and it is only necessary to rinse out the unit once or twice per year.
The standard execution of the compact coolant cleaner MINI-QUICKSEP is delivered completely with oil tank with overflow protection, hydraulic dry run protection for the pump, feed and return tubes as well as a float. Different accessories like various types of floats (also for a fixed assembly into a tank) as well as pre-filters, containers for the tubes and mobile carriages with larger oil tanks of 25 l content are available. All units are built for ambient temperature. Special reinforced units for temperatures up to 75°C are also available.
Technical Specifications



MINI - 70

MINI - 120

Dimensions:
Width
Depth
Height


500 mm
300 mm
850 mm


530 mm
410 mm
1050 mm

Volume:
Oil Tank:
Weight (empty);

14 litres
10 I
27 kg

28 litres
10 I
34 kg

Flow Capacity Nominal;
Flow Capacity Effective;

approx; 150 I/h
approx. 70 I/H

approx. 180 I/H
approx. 120 I/H

Drive: 220/240 Volts

0.18 KW

0.25 KW

Option

with oil tank of 25 I volume, with safety tub, mobile